Alana L. Aird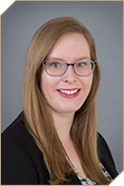 Alana is an associate at Giesbrecht, Griffin, Funk & Irvine LLP practising in the areas of estate planning and wills, estate administration, real estate and corporate/commercial law. She articled with and was an associate with Haney, Haney & Kendall prior to joining Giesbrecht, Griffin, Funk & Irvine LLP in 2019.
Alana graduated from the University of Guelph with Bachelor of Arts (Honours) degree in 2013 and then received her J.D. from Western University, where she graduated in 2017. During her time at Western, Alana was a Program Manager of the Sport Solution Clinic, where she assisted Canadian Olympic and National Team athletes navigate sport-related legal issues such as team selection, funding, and athlete-National Sport Organization contract disputes. Alana also volunteered for the Canadian Environmental Law Association through Pro Bono Students Canada, conducting legal research and writing educational manuals on health hazards in rental housing conditions for low-income individuals and families in urban and rural communities.
Alana lives in Kitchener and is a proud member of the Waterloo Law Association. She volunteers with the Fergus Scottish Festival & Highland Games and outside of work, she can be found at the farm riding her horse.