Jared M. Gillespie
B.A. (Hons.), J.D.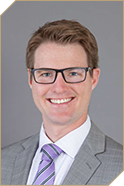 Jared spent his early years living in St. Catharines before relocating to Kitchener for high school and is a proud graduate of Grand River Collegiate Institute.
After obtaining an Honours Bachelor of Arts from the University of Toronto, Trinity College, majoring in Employment Relations, Jared completed a dual Juris Doctor at the University of Windsor and the University of Detroit Mercy.
At law school Jared was selected to represent the University of Windsor at the Hockey Arbitration Competition of Canada and helped to select and coach Windsor's team in his final year.
Jared is a recipient of the Law Society of Upper Canada Award for Outstanding Achievement in Legal Studies and graduated with Cum Laude honours from the University of Detroit Mercy. He was also awarded Book Awards for attaining the highest grade in several courses offered at the University of Detroit Mercy including Cross Border Sales and Financing Transactions as well as Professional Responsibility.
Jared completed his articling term with GGFI and was called to the Ontario bar in 2016.   
Away from the office, Jared enjoys golfing and coaches minor hockey. After stints behind the bench for house league teams in Toronto and Windsor, he has joined the Kitchener Ice Pirates coaching staff.