Mary Anne Haney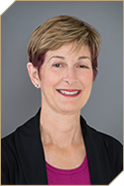 Mary Anne is a recent addition to Giesbrecht, Griffin, Funk & Irvine LLP having joined the GGFI Team after practicing law for over 30 years with her Waterloo firm, Haney, Haney & Kendall. Mary Anne practices in the areas of wills and estates, real estate and corporate law. She is experienced in estate planning and assists her clients in preparing wills, powers of attorney and trusts as well as advising executors and trustees concerning administration of estates. Mary Anne enjoys helping clients of all ages and has worked closely with seniors and their families in developing succession plans.
In her real estate practice, Mary Anne focuses on assisting real estate developers, builders and individual homeowners in residential real estate transactions. In addition, Mary Anne deals with corporate clients in connection with incorporating companies, re-organizations, asset sales and purchases and share transfers.
Mary Anne is a graduate of Wilfrid Laurier University and of the University of Western Ontario Law School and has lived in Waterloo for most of her life. She is a strong supporter of Uptown Waterloo and her Mary Allen Neighbourhood.