Stephen J. Funk
B.A., LL.B.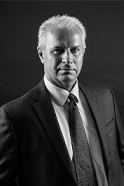 Steve grew up in the New Hamburg area, where he currently resides with his family. 

Prior to obtaining his Bachelor of Arts degree in Economics from the University of Western Ontario in 1986, Steve studied at the University of Waterloo for two years. Steve graduated from the University of Western Ontario faculty of law in 1989 and was called to the bar in March of 1991, at which time he joined the firm of Giesbrecht, Griffin, as it was then known. 

Although Steve serves a wide variety of clients, his principal practice areas are real estate, estates and estate planning, and corporate and commercial law for a variety of businesses, including professionals. His knowledge and expertise in these areas is supported by his significant experience in the area of civil litigation. He has represented clients in the various levels of Court in Ontario, including the Divisional Court and the Ontario Court of Appeal.
Steve also appreciates the value of Alternative Dispute Resolution in resolving his clients' cases, and he has represented a wide variety of clients at mediations and arbitrations.

During his time at university, Steve was involved in varsity volleyball, both as a player and a coach. Since that time he has enjoyed playing, arguably competitive, squash for many years. Groups that he is proud to be associated with, currently and in the past, are the New Hamburg Lions Club, HopeSpring Cancer Support Centre in Waterloo, where he served as a Director, the Wilmot Family Resource Centre, where he served as Director and Board Chair, and the Wilmot Aquatic Aces swim club, where he served as a member of the Executive. 

For several years Steve has been a member of the Parent Council for his children's school. He has also contributed as a guest columnist for the New Hamburg Independent, a weekly local newspaper serving the greater Township of Wilmot area. Steve has participated as a speaker on legal topics in seminars for various groups. 

Married, and the father of three growing children, Steve is now heavily involved in supporting, and trying to understand, the various activities which involve and interest his children.