Gurminder Singh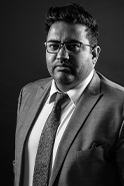 Gurminder joined GGFI as an Articling Student and returned to the firm as an Associate after his call to the bar. Gurminder prides himself on working diligently to provide the firm's clients with an excellent, service-oriented approach, while delivering simple solutions to complex legal matters.
Gurminder's practice is focused on Corporate-Commercial law and also includes Real Estate and Wills, Trusts and Estates. The Corporate-Commercial area of Gurminder's practice involves assisting clients with a wide variety of matters, including purchases and sales of businesses; corporate reorganizations; shareholder, partnership and limited partnership agreements; employment and contractor agreements; licensing; franchising; and helping medical professionals and other professional corporations with these matters and more.
Gurminder obtained his LL.B with distinction before completing two Masters of Laws, including one in International Business Law.
Gurminder was born and raised in Toronto, but now proudly calls the Kitchener-Waterloo area his home, along with his wife and son. Gurminder is an active member of the local community; currently serving on the board of directors for Bridges to Belonging and the Woolwich Community Health Centre, and as a legal mentor for Reep Green Solutions. Gurminder is also a member of the Elmira Kiwanis Club and volunteers on the Canadian Bar Association's Mortgage Instructions Subcommittee.
Contact:
gsingh@ggfilaw.com