Robert Lanteigne
B.S.M. (Hons), J.D.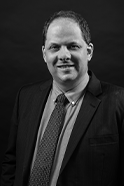 Rob's practice focuses on real estate (both residential and commercial), wills and estates, and corporate and commercial law including a particular focus on commercial leases. 
Rob was born and raised in Kitchener, attending Brock University for a degree in Sport Management, and obtained his law degree at the University of Western Ontario. He articled at GGFI Law, returned as an Associate Lawyer following his call to the bar in 2015, and became a partner in 2021.
Rob worked at the legal aid clinic at Western during all three years of law school, gaining trial experience in small claims, criminal, and landlord/tenant matters. At Brock, Rob was twice elected as a Vice President of the student union, with responsibility for representing the student body on policy issues to the university governing bodies and all levels of government. After his undergraduate degree and prior to law school, Rob worked for the Asthma Society of Canada in Toronto.
In his spare time, Rob is on the board for oneROOF Youth Services, assisting youth at risk of homelessness in the Waterloo Region. He also serves with the Kitchener Sports Association and can be found raising funds during 50/50 draws at Kitchener Rangers and KW Titans home games. He enjoys playing slo-pitch, and lamenting about the fish that got away
Contact:
rlanteigne@ggfilaw.com