Stephen J. Funk
B.A., LL.B.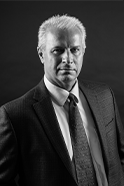 Steve grew up in the New Hamburg area, where he currently resides with his family. 

Prior to obtaining his Bachelor of Arts degree in Economics from the University of Western Ontario in 1986, Steve studied at the University of Waterloo for two years. Steve graduated from the University of Western Ontario faculty of law in 1989 and was called to the bar in March of 1991, at which time he joined the firm of Giesbrecht, Griffin, as it was then known. 

Although Steve serves a wide variety of clients, his principal practice areas are real estate, estates and estate planning, and corporate and commercial law for a variety of businesses, including professionals. His knowledge and expertise in these areas is supported by his significant experience in the area of civil litigation. He has represented clients in the various levels of Court in Ontario, including the Divisional Court and the Ontario Court of Appeal.
Contact:
sfunk@ggfilaw.com