Laura Tatum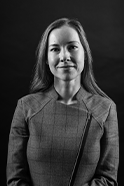 Laura focuses her practice exclusively on family law.  Called to the Bar of Ontario in 2013, she has experience representing clients in a broad range of matters, including matters involving complex and high-conflict parenting issues, division of property, financial support, divorce, and mobility/relocation.
Laura carefully assesses with each client the most appropriate and cost-effective options for the successful resolution of their matter.  Laura has experience with a wide range of processes including litigation and alternative dispute resolution processes such as negotiation, mediation/arbitration, parenting coordination, and negotiating and drafting domestic contracts.
Laura studied law at the University of Windsor and holds a Bachelor of Arts (Hons.) from Wilfrid Laurier University and a Master of Science from the London School of Economics.
Contact:
ltatum@ggfilaw.com